Falls are a serious risk to people working in all kinds of industries and in all sorts of environments.
Injuries from falling can come from workers falling from a height ("falling to lower level") such as:
Tree trimmers
Construction workers
Roofers
Metalworkers
Utility workers (poles, buckets)
Plumbers
Electricians.
The Bureau of Labor Statistics shows that the majority of worker deaths from falls to a lower level while on the job cause a majority of falling fatalities each year.
Falling injuries can happen to workers who slip and fall on:
Floors
Walkways
Docks
Stairwells
Sidewalks
Driveways
Loading docks
Known as "falls on the same level" these falling injuries are reported by the United States Bureau of Labor Statistics as causing over 15% of all nonfatal work injuries.
Three percent (3%) of these falls on the same level (slip and falls, trip and falls) result in the death of the worker.
In 2011, "falls to lower level" were the cause of 553 fatal work injuries. Statistics with known height of fall reveal that the fall causing death in these cases was less than or equal to 20 feet.
From the Bureau of Labor Statistics' latest research (2011) come the following findings:
40% of the injuries and illness cases requiring days away from work were came from three situations with the most coming from falls on the same level (15%)
299,090 workers suffered a fall while working on the job that was serious enough that they needed more than one day off work to recover from the injury
182,930 of these workers were injured in a fall on the same level
There is no significant distinction between the number of men and the number of women who suffer falling injuries at work on the job.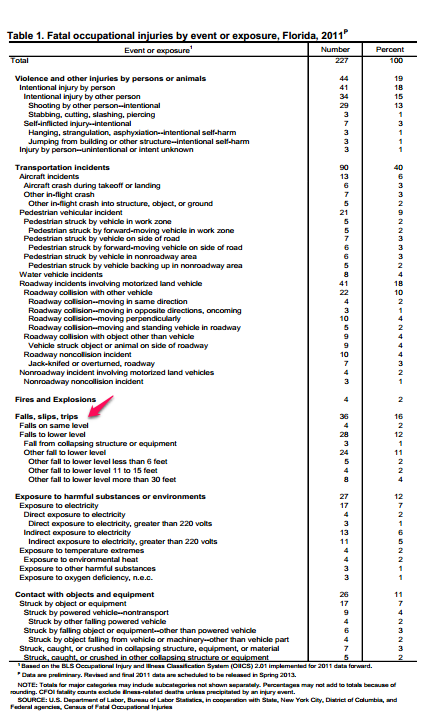 According to the Occupational Safety & Health Administration, falling is especially risky for workers in construction jobs. OSHA considers falls to be the highest cause of worker deaths in the construction industry. According to its statistics, falling is the leading cause of death for construction workers, followed by electrocution, struck by object, and caught-in/between as the "Fatal Four" which together were the causes of over half (56%) of all construction worker deaths in 2011.
Falls – 259 out of 738 total deaths in construction in CY 2011 (35%)
Electrocutions – 69 (9%)
Struck by Object – 73 (10%)
Caught-in/between – 18 (2%)
Florida Falling Injuries
According to BLS data, in Florida during 2011, construction workers died on the job more than workers in any other industry (41) and 15 of these worker deaths were due to falls, slips, and trips.
During 2011, there were 227 fatal work injuries reported in Florida. Three categories caused 75% of all Florida fatal work injuries during 2011:
90 Florida worker deaths resulted from transportation incidents;
44 Florida worker deaths from violence and other injuries by persons or animals;
36 Florida worker deaths from falls, slips, and trips.
In 2011 Florida Fatal Falling Injuries:
Falls on same level – 4 deaths
Falls to lower level – 28 deaths
Falls to lower level less than 6 feet – 5 deaths
Falls to lower level 11 to 15 feet – 4 deaths
Falls to lower level more than 30 feet – 8 deaths