Miami-Dade County Slip and Fall Injuries 2013 Analysis
In the United States, one aspect of falling injuries that is particularly troublesome is the statistical research that reveals older Americans are more susceptible to serious injury from falls than other segments of the population.
Elders and senior citizens (those over the age of 65 years) may suffer severe harm and even death from a slip and fall accident.  In 2009, for example, over 662,000 older Americans have to be hospitalized because of fall injury; another 2,400,000 had injuries from slip and falls that were serious enough to require emergency room care.
According to the Centers for Disease Control (CDC):
33% of those Americans over the age of 65 will suffer a fall this year.
Of those older adults who fall, between 20-30% will suffer injuries that are serious enough that it will impact their daily life:  they will be hampered in their ability to get around or to live independently.
Elders and senior citizens need medical care as a hospital in-patient because of an injury suffered during a fall, over 500% more often than older adults who suffer injuries from any other cause.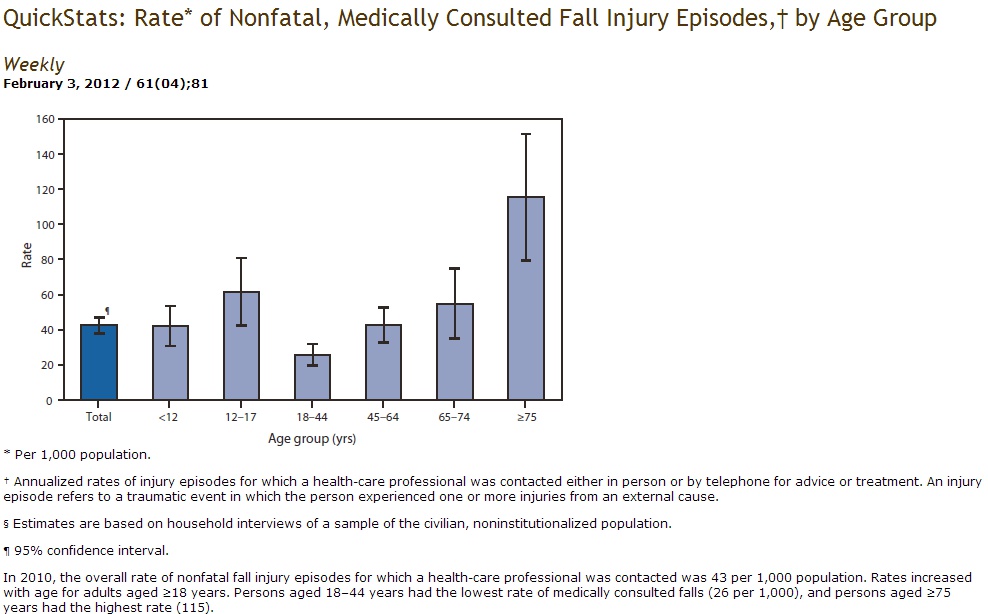 Image:  CDC's February 2012 Weekly Morbidity and Mortality Report
Florida is experiencing a skyrocketing number of falling injuries reported by those over the age of 65.  The statistics have been kept by the Florida Department of Health's Bureau of Vital Statistics.
According to the Florida data, since 1990, when state-wide the number of falling injuries was around 1,582 and listed as the cause of death for only around 20% of Floridians aged 65 and older,  the number has risen to 5,620 and falls attributed to almost 60% of the accident deaths for older Floridians by 2009.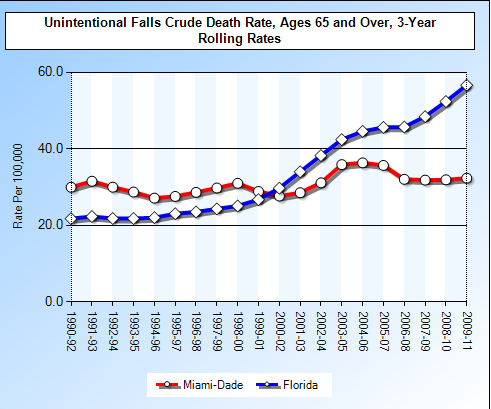 The Florida Department of Health reports that among seniors:
Men over the age of 65 had a higher risk of death from injuries suffered in unintentional fall-related injuries.
Women over the age of 65 had a higher risk of having to be admitted to a hospital for in-patient care after a fall injury than men.
Fall injuries of a serious nature increased dramatically as people age.
Older adults over the age of 85 are at the highest risk of death due to falls.
Miami-Dade County has a large population enjoying the sunny climate and beautiful beaches of South Florida.  According to the United States Census Bureau, in 2009 there were around 360,000 Miami residents over the age of 65 years.
Also according to U.S. Census numbers, in 2010, Miami-Dade County had a population of 2,496,435 overall with a Per Capita Income of $22,619.
The Miami-Dade County Department of Health reported 141 deaths due to fall accident injuries in 2010; out of that total:
18 fall death victims were between 65 and 74 years in age.
141 fall death victims were over the age of 74 years.
Sources:
Center for Disease Control's Weekly Morbidity and Mortality Report
Florida Bureau of Vital Statistics