Home – Hallandale Injury Articles – Hallandale Publix Slip and Falls
Hallandale Publix Slip and Falls
Publix is no stranger to slip and fall lawsuits. In our experience, the company makes quick, small offers to people who are injured in their stores to avoid the cost and time of litigation. Fortunately, not everyone is easily persuaded. Publix receives hundreds of slip and fall lawsuits filed against them every year in just South Florida alone. With that being said, the Publix location here in Hallandale Beach is no exception.
We have spent the time doing research and drawing from our knowledge and Alan's 37+ years of experience we have put together the following information about slip and fall lawsuits against Publix, Inc. for your reference.
Read (From Our Blog): How To Prove Publix Was At Fault For Your Injuries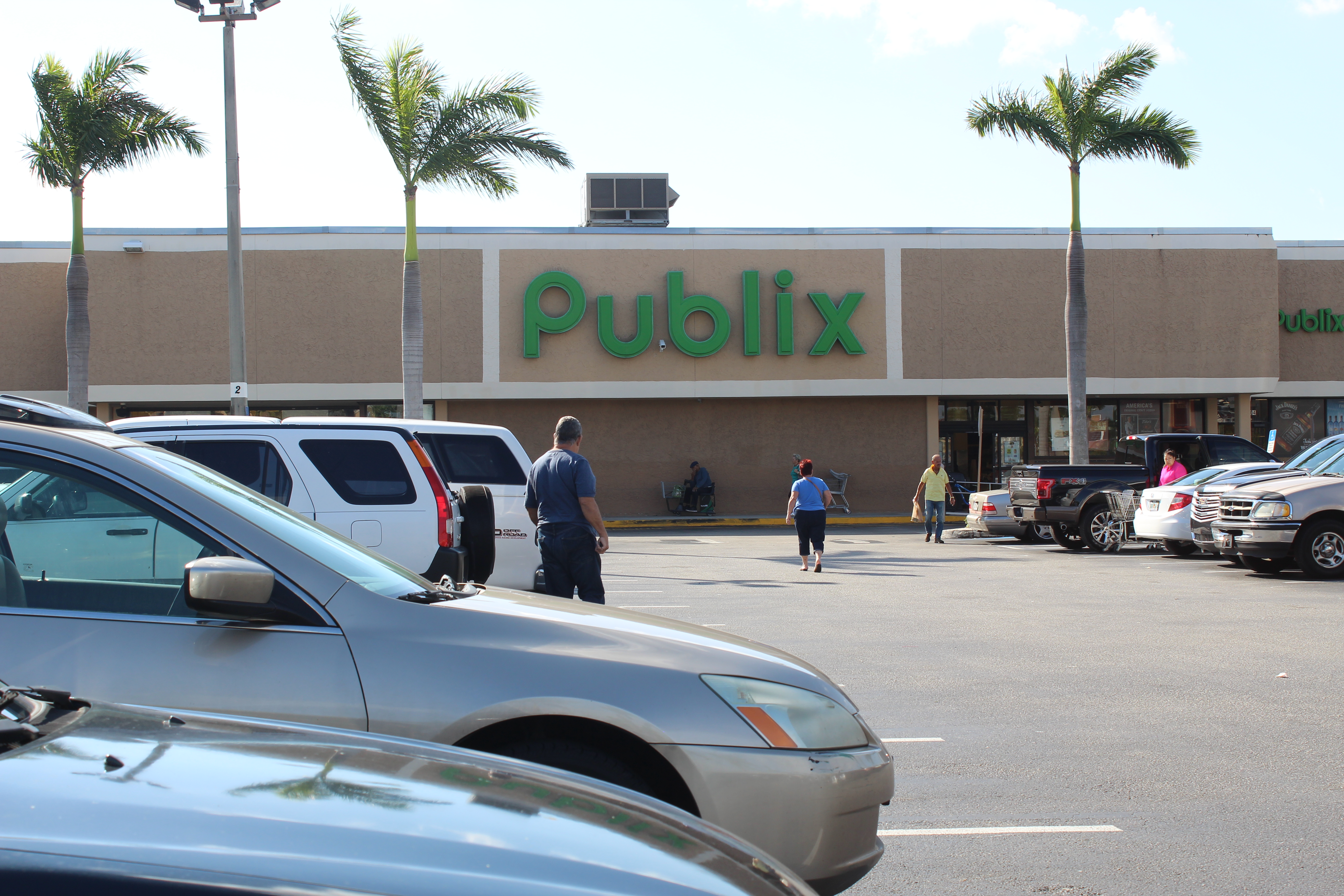 View of Publix on E. Hallandale Beach Boulevard
Florida Statute 768.0755, Premises liability for transitory foreign substances in a business establishment states–
"(1) If a person slips and falls on a transitory foreign substance in a business establishment, the injured person must prove that the business establishment had actual or constructive knowledge of the dangerous condition and should have taken action to remedy it. Constructive knowledge may be proven by circumstantial evidence showing that:
(a) The dangerous condition existed for such a length of time that, in the exercise of ordinary care, the business establishment should have known of the condition; or
(b) The condition occurred with regularity and was therefore foreseeable."
Additionally, Florida's statute of limitations states that a victim of a slip and fall has four years from the date of the accident to file a lawsuit.
However, slip and fall incidents aren't always black and white. They can happen in a variety of ways, and when you least expect it. Common occurrences of slip and falls happen due to lack of proper warning signs, floors that were recently mopped or waxed, lack of floor mats at the entrance/exit when it rains, and even footwear at the time of the incident. 
The Publix in Hallandale has a very heavy amount of traffic in the parking lot. It's very busy, with many people trying to get in and out at any given time. This can be a very dangerous to pedestrians and very distracting. Someone can trip over the sidewalk curb while paying attention to the cars and seriously injure themselves.
A few of the most frequently occurring bodily injuries happen to the:
Shoulder

Wrist

Hip

Back

Spinal cord

Knee
Common areas where slip and falls occur are in the produce aisle if a banana or grape is left on the floor, the refrigerator aisle (due to leaks or broken pipes), the entrance/exit when it rains, and even in the parking lot.
The Publix located here in Hallandale Beach has a large number of elderly clientele. For these shoppers, a slip and fall can be detrimental. They can easily fracture their shoulder or hip, resulting in weeks or even months of hospitalization. If this happens, it is very important that they see a doctor. Sometimes you can't tell how severe an injury is until you get a professional opinion. Many times, injuries like these can either be permanent or continuing in nature. 
If you're thinking of suing Publix, we've put together a list of some of Publix's Defense attorneys for Broward County cases for your reference so you can be better prepared and know what to expect. These attorneys include:  
 -Jason A. Glusman, ESQ.
Wicker Smith O'Hara McCoy & Ford PA
515 East Las Olas Boulevard
Suntrust Center Suite 1400 P.O. Box 14460
Fort Lauderdale, FL 33301
-Earleen H. Cote, ESQ.
Kubicki Draper
1 East Broward Boulevard
Wells Fargo Tower- Suite 1600
Fort Lauderdale, FL 33301
-Raymond Holton, ESQ.
Catri Holton Kessler & Kessler PA
633 South Andrews Avenue
3rd Floor
Fort Lauderdale, FL 33301
-Jonathan S. Miller
Wicker Smith O'Hara McCoy & Ford PA
515 East Las Olas Boulevard
Suntrust Center Suite 1400 P.O. Box 14460
Fort Lauderdale, FL 33302
-Wesley L. Catri, ESQ.
Catri, Holton Kessler & Kessler PA
633 S Andrews Ave Third Floor
Fort Lauderdale, FL 33301-0000
As you can tell from the attorneys listed above, Publix uses attorneys from a few different law firms. However, if your claim is pre-lawsuit, be careful when speaking to a Publix claims adjuster. It has been said many times that Publix adjusters are very friendly when speaking with you after you are injured, but don't be fooled.
Read: Insurance Companies Will Deny A Claim Because There Was No Complaint Or Treatment At The Time Of The Accident
You must remember these adjusters' main goal is to reject or resolve your claim with little to no cost involved, and they will do anything they can to accomplish this task. You are not required to give them a recorded or unrecorded statement, so be cautious of what you say to them as they will go on a fishing expedition to turn any detail of your incident in their favor.
Many times people will speak to the "friendly" adjuster, hang up feeling great about the conversation because they say things to make you believe they are on your side and will pay your medical bills. Then, weeks later they receive a notice that their claim has been rejected. 
In order to make the best claim possible and minimize the chances of an insurance adjuster taking advantage of you, you must prove fault by gathering as much evidence as possible. As we said before, one can prove fault through circumstantial evidence. However, and injury victim can also prove fault by using negligence.
An accident victim may be able to prove that the business was at fault for his or her injuries in a couple of different ways. The most common way is by establishing the duty of care that is owed to him or her, and then prove that the business breached this duty.
Read: Insurance Companies Will Deny A Claim By Blaming Your Injuries On A Previous Problem From Which You Have Fully Recovered
To learn about Publix slip and fall lawsuit settlements and verdicts, and to see just a few of the cases Alan Sackrin has settled and won against Publix, go to:
See: Sample Verdicts and Settlements Against Publix 

Do You Have a Question?
Fill out the "Talk With An Attorney" form above to ask a question or call us at 954-458-8655.  We promise to get back to you promptly.  Ask now.
Learn More: See Our Slip and Fall Resource Page