Home – Hallandale Injury Articles – Hallandale Winn Dixie Personal Injuries
Hallandale Winn Dixie Personal Injuries
Hallandale is home to hundreds of businesses, both big and small. Winn Dixie is no stranger to our town. However, for this company in particular, things aren't always sunny here by the beach.
Winn Dixie has an average of 45 new civil lawsuits filed in Broward County per year. Most of which are premises liability lawsuits. However, this number is decreasing year after year, and we can't help but wonder why.
Read: How To Prove Winn Dixie Was At Fault For Your Injuries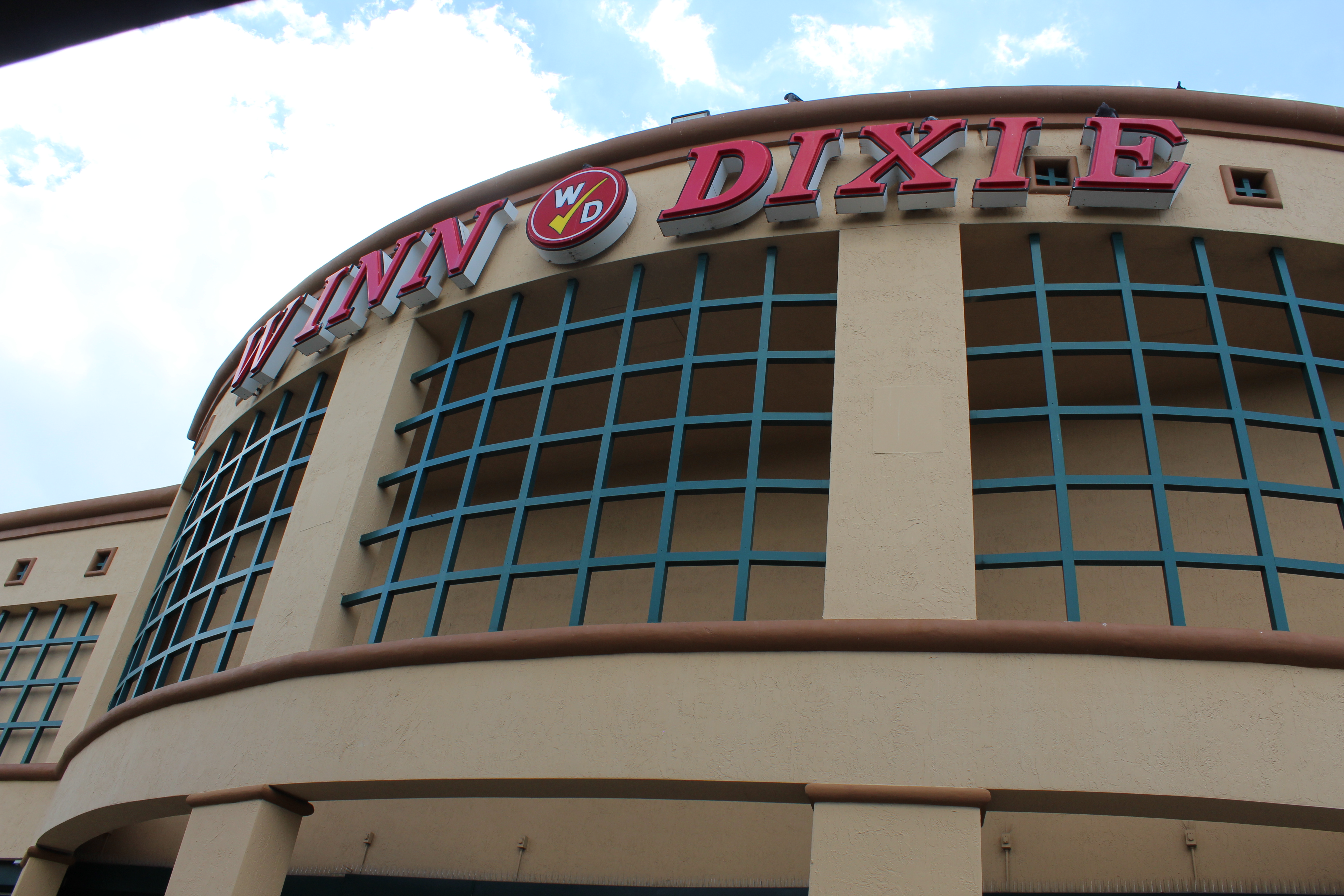 View of Winn Dixie by I-95 in Hallandale
Some Winn Dixie locations may offer a nominal gesture to someone who has been injured in a store to dissuade him or her from filing a lawsuit against the company. For a victim whose injuries are minor and did not require any medical attention or hospitalization, it may be beneficial to accept the small gesture.
However, in many cases, a slip and fall or trip and fall may lead to serious outcomes such as injuries to the head, neck, shoulder, and/or hip. In these situations, those people will most likely choose to reject the peace offering and file a claim right away, especially if the injured person is elderly, as they hold higher risks than someone much younger with the same injuries.
Unlike its competitors, Winn Dixie has two locations here in Hallandale, Florida. One of the stores, located on Hallandale Beach Blvd. near I-95, was built in an older plaza than the other store, located farther east. This may bring up many concerns for the safety of Winn Dixie's shoppers.
For example, over a period of time, tree roots grow below the ground of the parking lot, splitting the concrete and creating a serious tripping hazard for customers walking to or from the store. If they weren't warned about the dangerous condition, or if this hazard is not repaired in a timely manner, Winn Dixie can be held accountable for a trip and fall victim's injuries.
Additionally, large grocery stores such as Winn Dixie can be very busy on any given day of the week. This means there can be a heavy amount of vehicles in the parking lot, creating a distracting environment for pedestrians which can result in a trip and fall due to broken concrete and/or potholes.
Parking lot trip and falls can cause a wide range of injuries which vary in severity. Perhaps a child scraped his or her knee and only needed a Band-Aid, or an elderly man fell and broke his hip. In which case a series of lengthy, unpleasant, and expensive treatments will likely follow. Other common areas of injury include shoulder, wrist, ankle, back/spinal cord, and injuries to the head.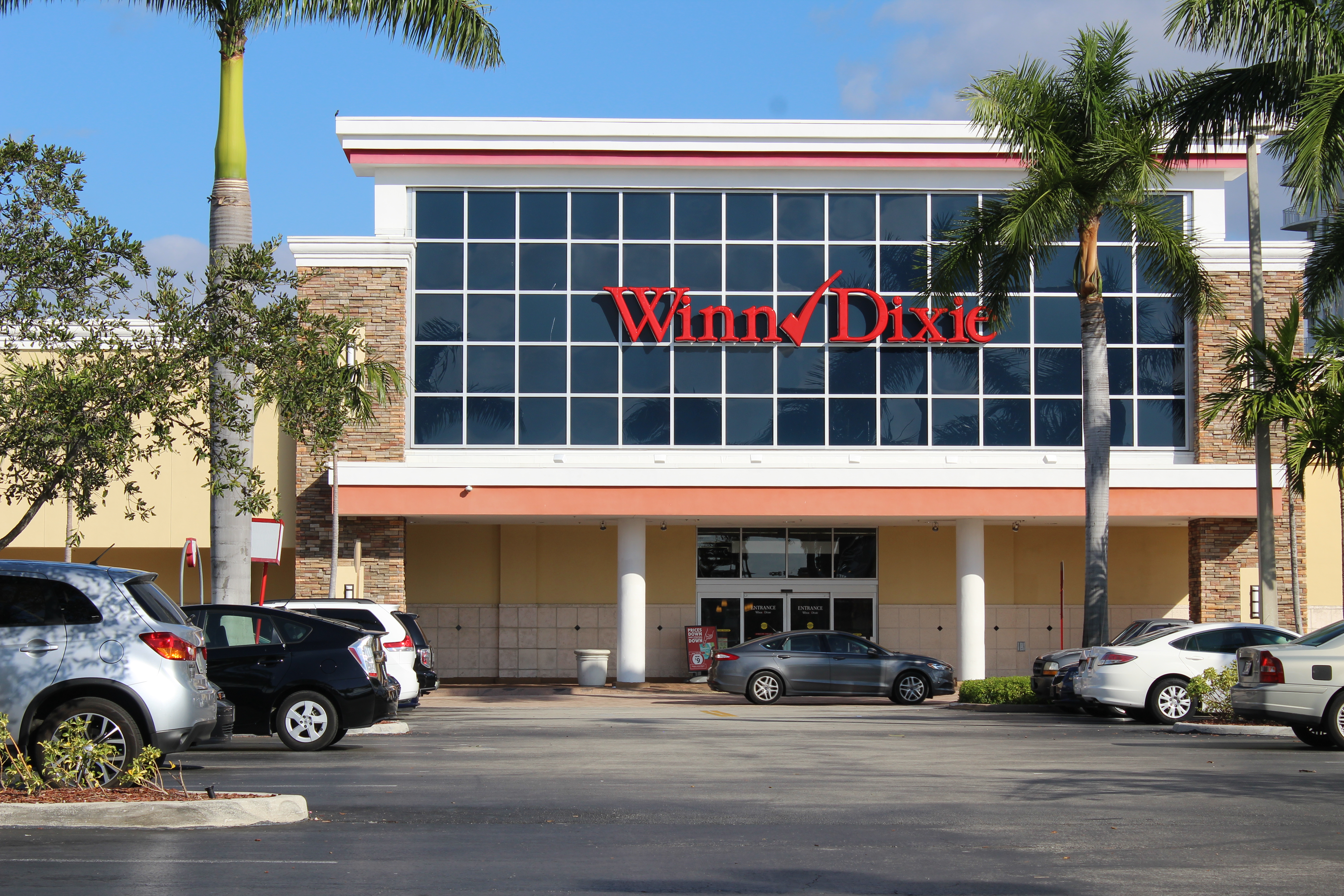 View of Winn Dixie on Hallandale Beach Blvd.
Another aspect that sets the Hallandale Winn Dixie apart from its competitors is the store's layout. Unlike other grocery stores in Hallandale, the produce section is located near the entrance. This particular layout can be very dangerous in certain situations.
The produce section itself holds many factors that increase the risk of slip and falls including, but not limited to, broken pipes from food misters, smashed fruit, and even plastic bags left on the floor. Now, you may be wondering what this has to do with the stores entrance.
On rainy days, it is not uncommon for the floor mats at the entrance to become soaked and result in water being dragged into the store. Because the produce section is near the entrance, a trail of water can form as time passes and as people transverse. The two hazardous slip and fall zones could combine, therefore creating an even greater risk for the safety of Winn Dixie's Hallandale customers.
If someone is injured in a slip and fall in a business establishment, the injured person must prove that the business at fault for his or her injuries. The business would be at fault if it had actual or constructive knowledge of the dangerous condition and did not take any action to remedy it (see Fla. Stat. 768.0755). Constructive knowledge can be proven by circumstantial evidence showing that:
1) The dangerous condition existed for long enough that the business should have known about it; or
2) The condition occurred regularly, and therefore was foreseeable.

Be aware that Florida's statute of limitations (Fla. Stat. 95.11) states that a victim has 2 years from the date of the accident to file a personal injury lawsuit.
Now Watch:  Grocery Store Falls – What Is The Effect On My Lawsuit If I Can't Prove Amount Of Time Substance Was On The Floor?
To learn about Winn Dixie slip and fall lawsuit settlements and verdicts, and to see just a few of the cases Alan Sackrin has settled and won against Winn Dixie, go to:

Read: Sample Verdicts & Settlements Against Winn Dixie
Do You Have a Question?
Fill out the "Talk With An Attorney" form above to ask a question or call us at 954-458-8655.  We promise to get back to you promptly.  Ask now.
Learn More: See Our Slip and Fall Resource Page