Home – Car Accidents – Miami-Dade County Crash Data
Miami-Dade County Auto Accidents Crash Data

The following analysis of motor vehicle accidents and car crashes in Miami-Dade County takes statistics and data provided by county, state, and federal resources.  It is provided here as a community service to Miami-Dade County residents and others interested in auto accident data.  Compilation includes public domain information published online by governmental sources as shown below, including the Miami-Dade County Health Department; the Florida Department of Transportation; and the National Highway Traffic and Safety Administration.
State of Florida Auto Accident Analysis
Nationally, over 5,400,000 motor vehicle crashes were reported to police in 2010.  Of those reported accidents, 28% (1,540,000) involved someone being injured in the accident and 30,196 of the reported crashes involved the death of someone hurt in the crash.
According to the Florida Department of Motor Vehicles, hundreds of traffic accidents happen every day in the State of Florida.  Unfortunately, many people die every day in Florida from car crashes.
| | | | |
| --- | --- | --- | --- |
| Year | Number of Crashes | Traffic Crashes Per Day | Number of Fatalities |
| 2009 | 235,778 | 646 | 2,563 |
| 2008 | 243,342 | 665 | 2,983 |
| 2007 | 265,206 | 702 | 3,221 |
| 2006 | 256,200 | 702 | 3,365 |
| 2005 | 268,605 | 736 | 3,533 |
Miami – Dade County Traffic Accidents Statistical Analysis
Florida's Miami – Dade County is estimated to be home to over 2,500,000 people in 2012 with the population increasing steadily each year according to U.S. Census figures.  As part of the South Florida Metropolitan Statistical Area (along with Fort Lauderdale and Pompano Beach), the city of Miami is one of 34 incorporated cities found in Miami-Dade County, which is also home to the cities of Miami Beach, Coral Gables, Hialeah, Homestead, Key Biscayne, North Miami, Pinecrest, and South Miami.
Miami-Dade County spans 1898 square miles on the south-eastern coastline of Florida with traffic moving along 5 Interstate Highways: I-95, I-75, I-195, I-395, I-595, and US-1.   Drivers in Miami-Dade also travel on several main Florida State Roads where thousands of cars, trucks, and commercial vehicles move daily – including the Florida Turnpike and the Golden Gates Interchange.
In Miami Dade County, Florida, traffic crashes historically number close to 50,000 each year, while the Miami Dade Health Department records show that during the time period of 2008 to 2010, three zip codes within Miami Dade County had the highest percentage of traffic fatalities.  These were the zip codes for Opa-Locka and part of Miami Gardens (33054); Aladdin City (33187); and Florida City (33034).
From the Florida Department of Motor Vehicles – Traffic Accident Totals:
Year | Number of Miami – Dade Traffic Accidents
2000   –   51,132
2001   –   54,519
2002   –   49,922
2003   –   45,731
2004   –   46,166
2005   –   48,537
From Miami-Dade Health Department – Zip Code Traffic Accident Statistics: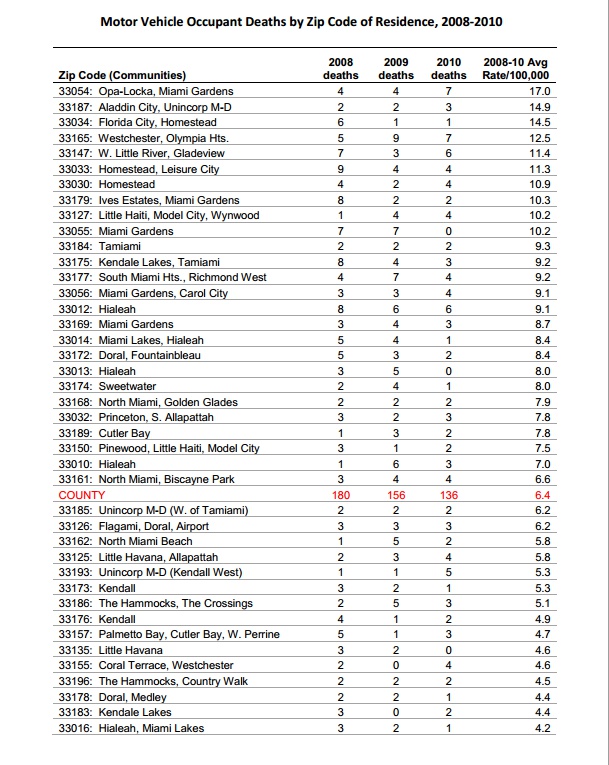 Sources:
Miami-Dade County Health Department
Florida Department of Transportation
Florida Department of Motor Vehicles
National Highway Traffic and Safety Administration