Home – Car Accidents – Palm Beach County Crash Data
Palm Beach County Auto Accident Crash Data Overview
United States Auto Accident Statistics
Nationally, automobile accidents remain a huge source of tragedy as the National Highway Traffic Safety Administration reports that over 5,400,000 motor vehicle accidents were reported to the police in 2010.
The NHTSA research also provides the following data:
60% of fatal motor vehicle accidents in the United States in 2010 involved a single vehicle.
31% of these fatal crashes involved alcohol-impaired driving with a BAC (blood alcohol content) hitting  .08 or higher.
When a fatal motor vehicle crash occurred in 2010 between midnight and three o'clock in the morning, 66% involved alcohol-impaired driving.
Florida: Palm Beach County Auto Accidents
According to the State of Florida Department of Motor Vehicles, statistics are showing that the number of fatal car accidents each year in Florida is decreasing.  Their data reveals that there were 235,778 traffic accidents in Florida 2009 and the annual crash data from 2005 to 2009 shows that the number of car accidents is decreasing every year in Florida.
2009: 235,778 traffic crashes
2008: 243,342 traffic crashes
2007: 265,206 traffic crashes
2006: 256,200 traffic crashes
2005: 268,605 traffic crashes
More people die from injuries sustained in a car crash during the months of March and October than any other month of the year in the State of Florida.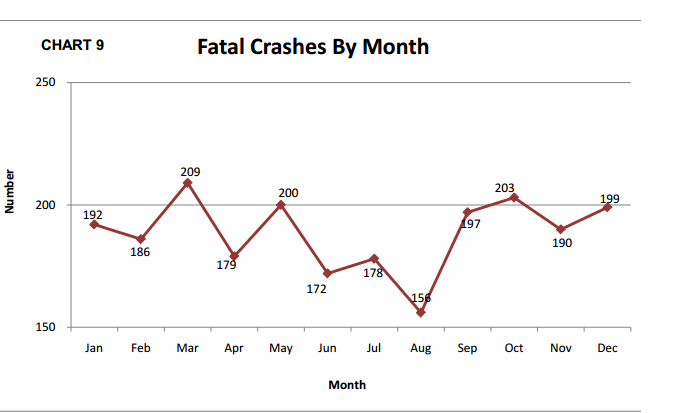 Table 1: Fatal Crashes in Florida by Month
As for day of the week and time of day, statistics compiled by the National Highway Traffic Safety Administration show the following for Florida in 2011:

Table 2: State of Florida Traffic Fatalities in 2011
Palm Beach County Traffic Accidents Statistical Analysis
Palm Beach County covers 1970 square miles on the eastern coastline of Florida with a total population of almost 1,335,187 million according to 2011 state statistical data. Its three largest cities are West Palm Beach, Boca Raton, and Boynton Beach.
In Palm Beach County, Florida, traffic crashes reported to the police range between 14,978 total accidents in 2006 to a low of 13,891 in 2008 as 13,400 accidents happened within the jurisdictional boundaries of Palm Beach County within the calendar year 2010.
In 2010, 1123 crashes were alcohol-related. Each year, over a hundred people die in car accidents in Palm Beach County; however, the fatality rate for motor vehicle accidents in Palm Beach County has declined in recent years:
Table 3:  Palm Beach County Accident Fatalities
| | |
| --- | --- |
| 2006 | 212 died |
| 2007 | 206 died |
| 2008 | 198 died |
| 2009 | 151 died |
| 2010 | 123 died |
Sources:
Florida Department of Health
Florida Department of Highway Safety and Motor Vehicles
National Highway Traffic Safety Administration
United States Census (census.gov)